Porcelain paving everything you need to know!
There's a lot to think about when choosing the right paving stone for a patio as there are so many choices on the market, natural stone such as Sand Stone, Slate, Granite and Basalt with a variety of finishes sawn and riven are just a few to mention.
Porcelain is growing ever more popular in gardens with a wide range of texture, colour, size and designs.
Man-made from natural raw materials mainly produced in Italy, Spain, Portugal, China, Poland, Turkey and India.
Outdoor Porcelain typically comes 20mm thick anything thinner is for indoor use and is not for outside. The thickness provides high resistance to loads and stresses.
Porcelain is frost proof and more resistant to staining and also retains its colour and size. With a natural stone consistency in colour and texture can sometimes vary and is something to consider.
The stone is packed in sealed crates tightly together from were its mined, you do sometimes find some different shades of colour shape and texture.
Sourcing the stone from a reputable supplier and a good contact you can swap some of these backs, also its always advised mixing the packs over a large quantity as they can vary.
When choosing Porcelain one thing to look for is the Porosity of the stone, this makes a difference with different qualities of Porcelain.
Porosity means how porous the stone is, the lower the % the easier to get Staines out and clean.
When choosing the colour of the Porcelain you may want to think about the surrounding area, for example, if you've got a lawn that gets muddy or you have a slightly dirty surface using a light stone you will need to clean off footprints and these can be hard to get out.
Think about retaining flower beds and borders as the soil can get washed onto the paving and the slabs may look totally flat but some are not around the edges and dirty water can sit and stain.
You can seal the patio after and just the slabs before laying which does help prevent staining and helps cleaning after grouting.
When grouting there are a lot of colours to choose from and a few different products, you don't use sand and cement.
Exterior tile grout or resin are generally used these come in a wide range of colours and are frost resistant.
There are also different types depending on joint width.
One thing to think about is colour as the lighter it is the dirt will show as water can sit in these lower parts.
Base preparation, a patio is only as good as the base you lay it on, it can be laid on a properly dug out and compacted Type 1 base, a concrete base is the best but comes with a higher price.
Some people use exterior adessive but are really expensive and you defiantly need an accurate concrete base.
We use sand and cement; you do have to prime the backs of the slabs with a slurry primer or you can paint with SBR which is like a PVA. We generally use a slurry without this the slabs won't adhere to the mortar.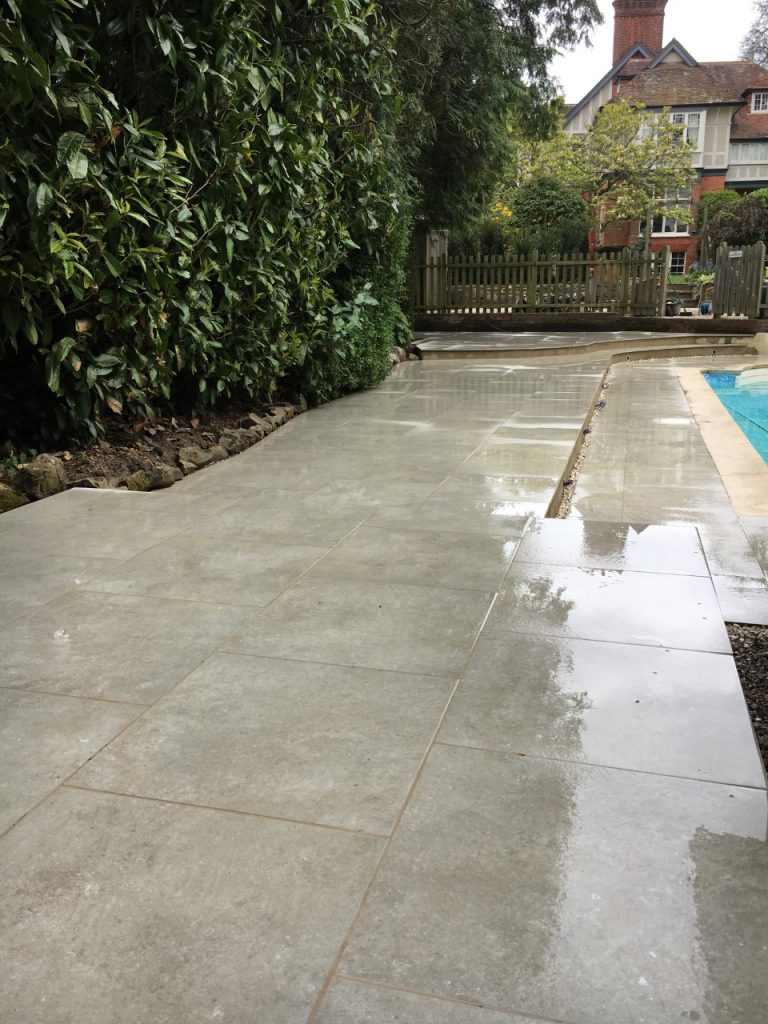 Porcelain is a very hard material and takes more specialist cutting tools, and with more accurate spacings precision cutting is needed using wet cut cutting benches helps do this as you need good clean straight cuts to match the stone as any wonky lines stand out.
Porcelain can have a multitude of edged finishes Bullnosed being one for step edges and capping stones for walls.
You can also get cladding for exterior walls!
Adding more time cutting, precision laying and priming the slabs also sealing if required you can see the more labour-intensive Porcelain can be and something to bear in mind.
Porcelain is a great product and looks great in the garden creating clean crisp contemporary lines and can be complemented with a wide range of other materials artificial grass being one as clean and dirt free.
Click this link & Drop us a line today for more information.